Η Realme TechLife επιβεβαίωσε πρόσφατα το λανσάρισμα των Robot Vacuum, Handheld Vacuum Cleaner και Air Purifier στις 30 Οκτωβρίου. Θα κυκλοφορήσει επίσης ένα πλυντήριο ρούχων την 1η Οκτωβρίου. Το Robot Vacuum κυκλοφόρησε στην Ευρώπη τον Ιούνιο και το Air Purifier είναι διαθέσιμο σε πώληση σε ορισμένες χώρες.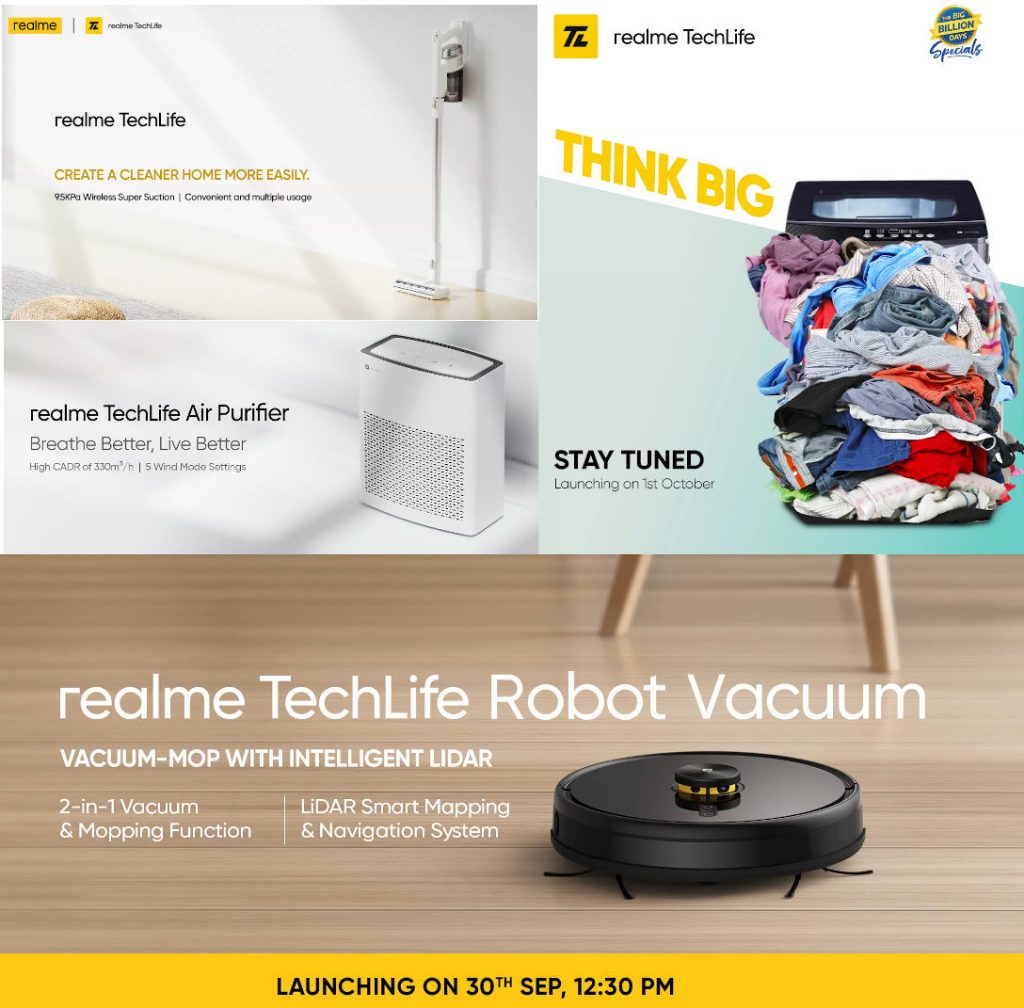 Χαρακτηριστικά Realme TechLife Robot Vacuum
2-in-1 Vacuum & Mopping with 300ml smart electronic water tank with four water outlets to match home environment
LiDAR Smart Mapping and Navigation System with 360° real-time laser scans, 0.01m² zone identification and avoidance, 98% accurate mapping and optimal cleaning path
Works with realme Link app compatible with Android 5.0+ and iOS 11+ devices, Supports Google Assistant and Amazon Alexa
Customizable Home Cleaning Plan lets you merge, split and name the partitions of home on the map, and then customize the cleaning sequence, suction,  wash outlet, speed for each are. When you are not at home, just one click, and it will automatically clean your home
Customization controls include 5 maps storage, designate specific cleaning areas, set virtual wall, times for specific areas, schedule for cleaning and no-mopping zone
Intelligent surface adaptation technology lets the robot identify the surface in real time. Suction and speed automatically increase for hard-to-clean, dust collecting areas like carpets and wall edges.
Two-side brushes covers a large cleaning area repeatedly
Up to 3000Pa suction power, 4 levels of suction strength and 55db low noise mode
5200mAh battery offers up to 300 minutes of cleaning
Χαρακτηριστικά Realme TechLife Air Purifier
Removes 99.95% of 0.3-micron particles and PM2.5 pollution, including dust, pollen, hair, animal dander, and other allergens with three-stage H12 HEPA filters
High CADR of 330m³/h enough to cover a 419sqft
Sleep, Soft, Normal, Strong and Auto modes with 46dB low noise level in sleep mode
Real-time Air quality indicator. Light color (PM 2.5 0~75ug/m³ Green,  PM 2.5 75~150ug/m³ Orange, PM2.5 150+ug/m³ Red) changes depending on the air quality
Innovative Air duct design
Smart Filter Change Indicator. Filter can last up to 2800 hours. A Blinking reminder notifies when a filter change in needed.
2, 4 and 8 hour timers to automatically turn the filter off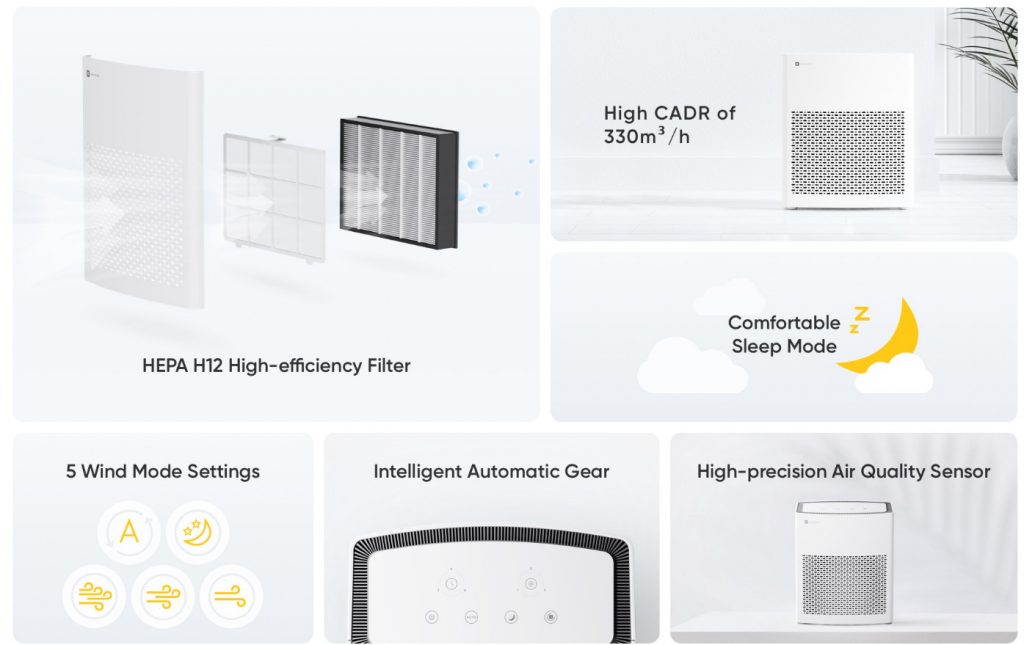 Χαρακτηριστικά Realme TechLife Handheld Vacuum Cleaner
140W motor with 10,500RPM for a maximum suction power of 9.5KPa
Autorotating floor brush with built-in motor that rotates the brush at 2200RPM for efficient dirt collection.
Advanced HEPA filter captures microscopic dust and allergens.
Comes with several brushes for different scenarios
Lightweight ABS material
Air dust design offers quiet operation
Removable dust cup makes it easy to dump dust and dirt
Filter is made of environmentally friendly materials and can be reused after washing
Supports wall-mount for easier storage
2200mAh battery promises up to 40 minutes of run time in soft mode and 20 minutes in strong mode.
5 LED lights show the battery level in real time.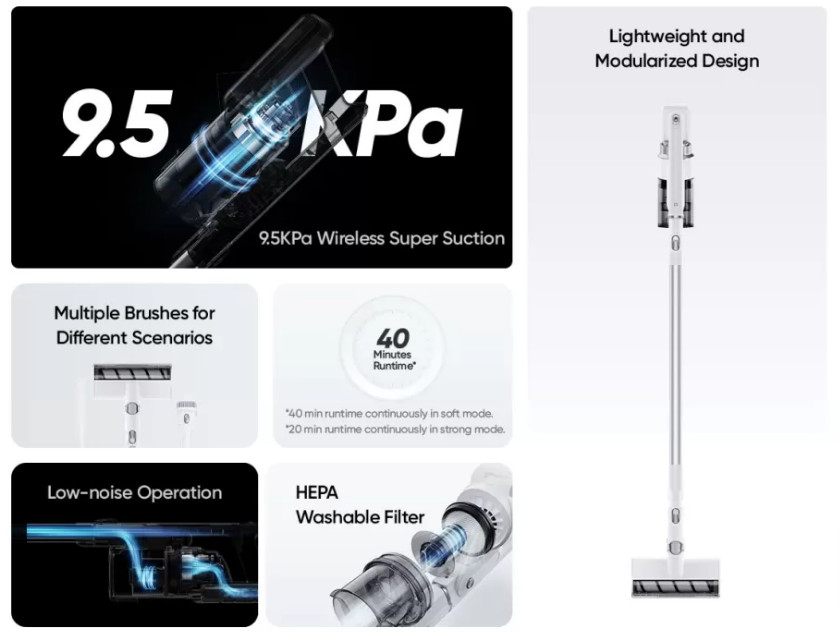 Η Realme δεν αποκάλυψε λεπτομέρειες σχετικά με το πλυντήριο ρούχων. Η ανάρτηση στο Flipkart αναφέρει ότι θα κυκλοφορήσει την 1η Οκτωβρίου.
------------------------- -------------------------
Ακολουθήστε το Gizchina Greece στο Google News για να μαθαίνετε πρώτοι και άμεσα, όλα τα τεχνολογικά νέα! Αν ψάχνετε HOT προσφορές, κάντε εγγραφή στο κανάλι μας στο Telegram!